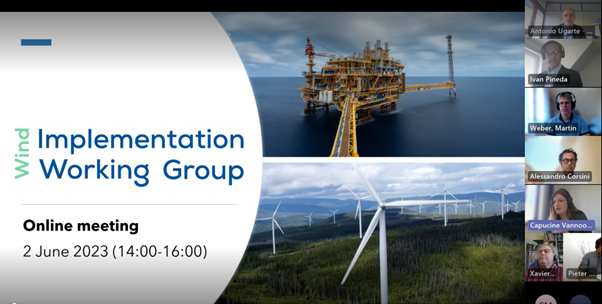 ---
On Friday 2nd June, members of the SET-Plan Implementation Working Group on Wind Energy (IWG Wind) met online to update the SET Plan targets on wind energy.
In view of the revamp of the SET Plan, the Strategic Energy and Technology Plan established by the European Commission in 2007, one of the important milestones for the IWG Wind this year is to update the strategic targets for wind energy.
Defined in 2020 and focusing mainly on cost-reduction and installed capacity, the previous targets have become outdated compared to the massive expansion of renewables needed to deliver the climate and energy targets. The IWG Wind therefore agreed to renew their targets to better align with the European Commission's ambition set out in REPowerEU or in the Green Deal Industrial Plan but also to cover the needs of onshore wind technologies.
The new SET Plan targets on wind energy will therefore reflect the R&I needs in several areas including manufacturing, recycling, grid development but also permitting or skills and jobs creation. Once agreed, these targets will be sent as recommendations to the Member States in the perspective of the revision of their National Energy & Climate Plans (NECPs).
If you'd like to keep up to date with IWG Wind activities, subscribe to our newsletter!
Contact: [email protected]